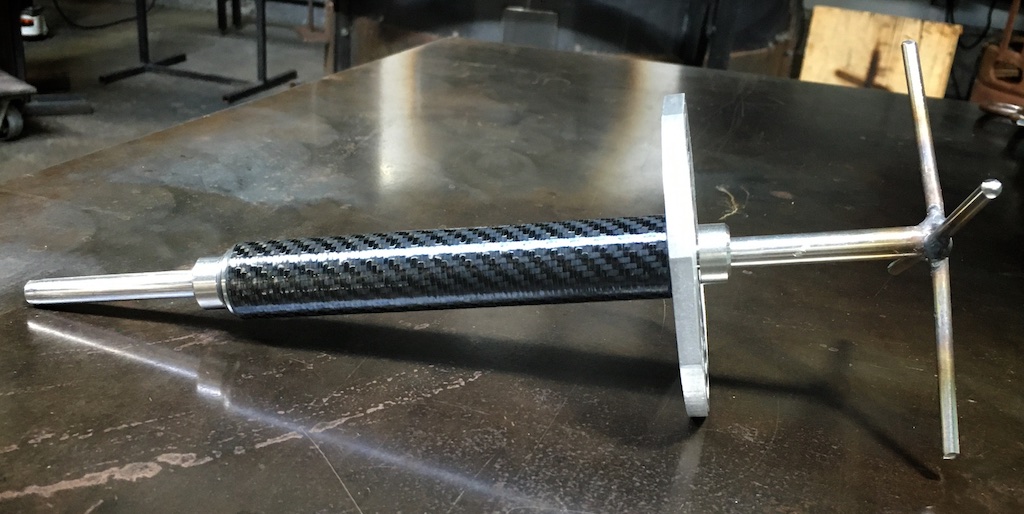 Cane are rods of glass; they can be clear, solid color or have all manner of lines of color inside of them. They can also be incorporated in a mass of molten glass and pulled and twisted into all sorts of patterns. This highly-patterned cane is often called 'twisty cane' or referred to by the Italian term 'zanfirico'. Making this style of cane requires encasing rods of colored glass inside a cylinder of molten clear glass. Once this mass is the correct temperature and shape, it's attached to a second punty (long metal rod), then with two glassmakers holding the punties, one of them walks to stretch the glass while they both furiously rotate the punties to twist up the glass. This approach has been used for at least hundreds of years and while effective, the tightness of the twists is limited by the amount of glass being twisted and the ability for the glassmakers to rapidly turn the punties.
I love tightly twisted patterns so a decade ago I started experimenting with using a drill to do the twisting rather than doing it manually. Aside from taking the strain off of your hands, wrists, arms and shoulders, a drill can twist much faster than a human. Of course I needed to figure out an approach for safely attaching the a punty to a drill in a safe and ergonomic fashion. The device I came up was akin to a paint stirrer. Over the years it was refined a bit to add a heat shield so my hand doesn't roast while pulling the cane, a handle so I could easily angle the glass as it pulled off the attachment and bushings to make it turn more smoothly. While it likely pulled a few miles of nice cane, it was a bit rough and I always wanted to re-design it into a really refined tool. So during the pandemic shutdown, I reimagined how I would make the ultimate cane twister, specified the parts I would need, ordered everything and worked with contractors for nice welds and CNC cutting the heat shield and the result is this spinner tool.
- Small size (12") for reduced weight and good balance
- Lightweight carbon fiber handle to easily hold and adjust the angle of the spinner while pulling
- Stainless steel and aluminum construction for longevity (and not looking like crap in humid environments)
- Dual radial bearings for smooth twisting
- Dual thrust bearing to handle load for heavy-duty pulls
- Secure stainless shaft collars
- Aluminum heat shield CNCed with spiral design and roll-prevention flat spots.
Glassblowers who want one can order at --->

this link
. I am requesting checks since Paypal and Visa both take 2.3% (and that makes me mad). When you follow the order link you will find the work of my esteemed attorney friends in the form of warnings and a release of legal liability that *must* be read and agreed in order to purchase. I've included some instructions and tips for use and may make some videos for fun in the next couple of weeks.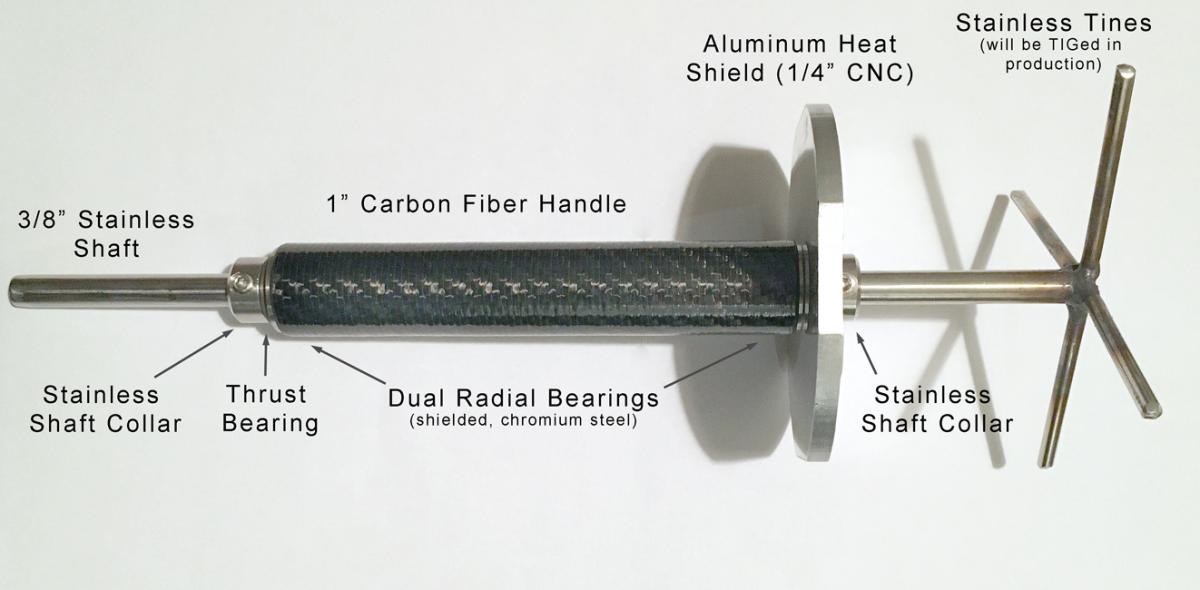 Here's a quick video on how to make a post for one of these spinners: