Biography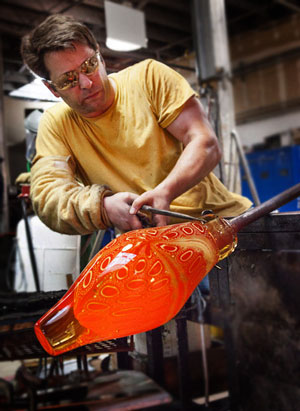 David Patchen is internationally known for his colorful and intricate blown and hot-sculpted glass created with meticulous craftsmanship and detail. His mastery of the murrine and cane patterning techniques and use of vibrant colors results in large-scale work that is exciting and precise.
For two decades David's creative energies primarily found an outlet in music, but a blowpipe and furnace have replaced his guitar and amp. A former corporate marketing professional, a glassblowing class in 2001 ignited such a passion that he transitioned his career from technology to full-time glass artist.
David's work is shown internationally at galleries and shows including SOFA Chicago, ART Shanghai and COLLECT London. David has been guest artist at the Corning Museum of Glass, Artist in Residence in Seto City, Japan and demonstrated at multiple times at the Glass Art Society's annual conferences.
Primarily self-taught, David grew his skills through experimentation informed by observing local artists and a few brief visits with Afro Celotto, maestro and former assistant to Lino Tagliapietra from Murano, Italy. His book David Patchen, Glass is in the permanent collection of the Rakow Library at the Corning Museum of Glass and the Fondazione Giorgio Cini, Centro Studi del Vetro (Glass Study Center Library) in Venice, Italy.
David is actively involved in the glass arts community as Chairman Emeritus of the Board of Directors at Public Glass (San Francisco's center for glass art) and formerly on the Pilchuck Leadership Council and Board of Directors, Glass Alliance of Northern California. David maintains a private studio within Public Glass where he creates his work. He enjoys and finds inspiration in international travel, the marine environment, science, nature and architecture.
David's work is in numerous private collections, museums and is exhibited internationally. Born and raised in New York, David Patchen now resides in the San Francisco Bay area. See the GALLERIES link for representation.
Feel free to contact David via the CONTACT form to inquire about available work, the location of a specific piece or commissions.
Collections
Seto City Art Museum, Japan
Imagine Museum, St. Petersburg, FL
Ritz-Carlton, Hong Kong
Peninsula Hotel, Paris
Island Hotel, Newport Beach, CA
Crown Plaza, Shanghai (Presidential Suite)
Glass Light Hotel & Gallery, Norfolk, VA
Regent Cruise Lines
Norwegian Cruise Line
Royal Carribean Cruise Line
Jack Welsh, GE
Jeff Immelt, GE
Sam Palmisano, IBM
Arnold Fisher - CEO, Fisher Brothers Development

Elton John
Mark Parker - CEO, Nike
Vinod and Neeru Khosla - Khosla Ventures
Herb Kelleher - Founder, Southwest Airlines
Marcia Goodstein and Bill Gross - CEO, Idealab
George and Mary Wheyerhouser
Ken Tuchman - CEO, TeleTech
James Della Collection
Jack and Aviva Robinson
Zeke Friedlander
George C. Halvorson – Chairman, Kaiser Permanente
Michael J. Critelli – CEO, Dossia